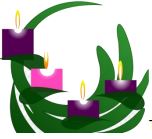 Do you sense that something's missing in your life? Do you feel that if you weren't so busy you would be happier, healthier, more effective, more fulfilled, and maybe even a better person?
Most people agree at this point that many of our systems are broken and the world is a bit of a mess right now.  Many of these problems cross our minds daily. We believe that part of the solution to each of these problems is spiritual.  There is no substitute in society for character, morality and prayer.
Our parish is partnering with Dynamic Catholic to help foster this reality in our area.  Dynamic Catholic is a ministry whose mission is to reenergize the Catholic Church in America.  They create world-class resources that meet parishioners where they are and lead them to where God is calling.  One of these resources is a program called Welcome. 
Welcome is a retreat hosted by a parish, designed to help participants have an encounter with Jesus, develop a personal prayer life, and discover the genius of Catholicism.   This Advent, our parish will be hosting, in English,  its first Welcome One Day Retreat for Women on December 4th, 2021.
We believe in the power of prayer.  Please feel free to reach out to the rectory should you have additional inquiries.