The Parish of Transfiguration-St. Stanislaus Kostka Youth Ministry
Open to all Parishioners in Grades 7 – 12!
Teens who gather, pray and learn to serve in a fun & enjoyable atmosphere.
718-326-2185/2236
Welcome to the Parish of Transfiguration-St. Stanislaus Kostka Youth Ministry….open to all 7th and 8th graders, and High School students from our parishes.   Be a part of an exciting year of social events, retreats, prayer, meeting nights, Lock-In, gym nights, church and community service, and much, much more!
---
JOIN US AT OUR RE-LAUNCH EVENT:  SATURDAY, MARCH 21ST AT 7PM IN ST. STAN'S GYM…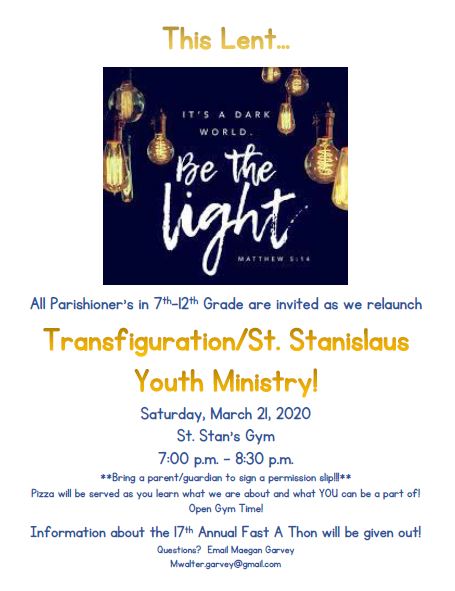 The Parish of Transfiguration-St. Stanislaus Kostka  Youth Ministry  
Info:   We are 99% paperless – we use our Parish website for Meeting Postings Web:    https://transtans.org/youth-ministry/
When: Re-launch Meeting Saturday, March 21, 2020
Where: St. Stan's School Gym
Time:   7:00pm until 8:30pm
Fee:     $25.00 – A parent/legal guardian must accompany you at registration for paperwork to sign Youth Member/Parent Contract.
---
Spiritual Leader – Msgr. Joseph P. Calise
Youth Leaders – Brittany Madlinger & Katie McCague
Youth Mothers – Sandy Madlinger & Rosemary McCague & Susan Moore
All Leaders are Virtus Trained; Youth Faith Formation Trained
Upcoming events through the year: Halloween Costume Party; toiletries for Veterans in VA Hospital; Christmas Party; Midnight Run for Homeless  – collecting gently used coats and blankets; assist St. Vincent de Paul Society; collection for 'What's Next', home for pregnant teens; Annual Lock-in Fast-A-Thon overnight in school gym; Project HOPE – collect nonperishable food to help feed the Homeless; special devotions to Blessed Mother and Saints.
E-mail contact:  rosemccague@hotmail.com or, leave message for Youth Ministry with the Rectory in person or by telephone if you have any questions.  Rectory Telephone number:  718-326-2185Looking forward to another wonderful Youth Ministry Year!!! 16 Years of Service!!!