What is Dynamic Parish?
Dynamic Catholic has been inspiring Catholics to rediscover the genius of Catholicism through the development of world-class resources and life-changing events for a decade. They will spend the next decade helping parish communities like ours grow and thrive through Dynamic Parish. They have invited us to pilot this program in our parish for five years at no cost to us. There are over 15K parishes in America. Ours is one of just twenty that were selected.
During the five years, Dynamic Catholic will invest millions of dollars in our community through engaging and energizing events, programs, and resources. Parish consultants will walk alongside our pastor and parish leaders, share best practices and support us at every turn.
¿Qué es una Parroquia Dinámica?
Durante una década, Dynamic Catholic ha está inspirando a los católicos a redescubrir la genialidad del catolicismo a través del desarrollo de recursos de primer nivel y eventos que transforman vidas. Ellos pasarán la próxima década ayudando a las comunidades parroquiales como la nuestra a crecer y prosperar a través de la Parroquia Dinámica. Nos han invitado a probar este programa en nuestra parroquia por cinco años sin costo para nosotros. Existen más de 15K parroquias en América. La nuestra es una de los veinte que fueron seleccionadas.
Durante estos cinco años, Dynamic Catholic invertirá millones de dólares en nuestra comunidad a través de eventos atractivos y dinámicos, de programas y recursos. Los consultores parroquiales trabajarán junto con nuestro pastor y los líderes de la parroquia, compartirán las mejores prácticas y nos apoyarán a cada paso.
---
HIGHLIGHTS FROM OUR DYNAMIC PARISH EVENT, SATURDAY, SEPTEMBER 21ST…GUEST SPEAKER RADIO TALK SHOW HOST AND BEST SELLING AUTHOR, DR. ALLEN HUNT… OVER 100 PEOPLE CAME TO LISTEN TO HIS PRESENTATION ON THE #1 SECRET TO GREAT RELATIONSHIPS.
---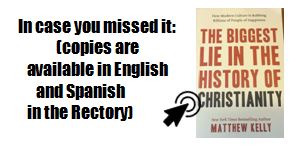 Did you receive your copy of the Biggest Lie last Christmas?  One of the greatest themes of human history is God's collaboration with humanity.  God wants to collaborate with you and with our parish to transform the world.  Every day, the seven billion people on this planet, they're all sending these prayers up to God.  Very often, God wants us to collaborate with him to answer these prayers.  Because a lot of people's prayers don't require some incredible miracle to answer their prayers.  A lot of people's prayers just require a little bit of kindness, a little bit of courage, a little bit of generosity.  We are capable of that.  We are capable of collaborating with God to answer people's prayers every day.  But in order to do that, we have to get beyond the biggest lie in the history of Christianity.  We've got to get beyond a lot of lies that we're constantly being taught about Christianity so we can begin to collaborate with God in  a powerful way—so that, with God, we can answer so many prayers with our kindness, with our courage, with our generosity.  Please stop by the parish office if you have yet to receive your copy.  (Click on picture below)