St. Stan's Re-Opening Plan
calls for 5 day in school instruction.
Learn about us at: https://ststanscaqn.org/


Call 718-326-1585 for more information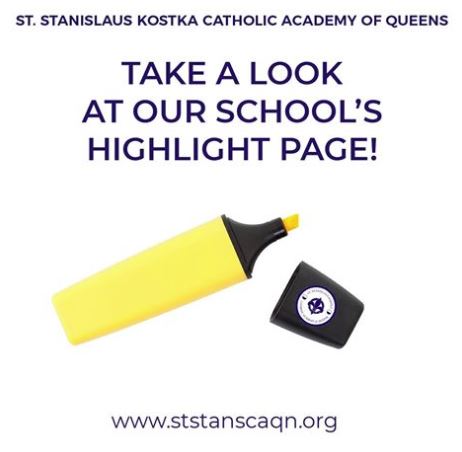 St. Stanislaus Kostka  Catholic Academy of Queens
A co-ed Catholic elementary academy serving nursery age through 8th-grade children in Maspeth, Queens
61-17 Grand Avenue / Maspeth, NY   11378
(718)326-1585
www.ststanscaqn.org
 •A safe, stimulating academic environment and a place where morals are modeled.
 •Affordable tuition with financial aid available.
 •Services offered include: flexible nursery program, pre-kindergarten, early drop off, after school services,
remedial and enrichment classes, SmartBoards and internet access in all classrooms.
 •A variety of special classes: library, computer, gym, art, foreign language, and music.
 •Classes are taught by qualified teachers.
 • Many extracurricular activities: Lego Club, Acapella Club, Debate Club, Band, Christmas Extravaganza, School newspaper, School Play.
 • Abundant student activities: Monthly Liturgies, Daily Advent Prayer, Halloween Celebration, Thanksgiving Food Drive, Christmas Extravaganza,
Breakfast with St. Nick, Math/Spelling/Geography Bees, Science Fairs, Aquinas Society Enrichment Program, Algebra I Common Core Enrichment, School Musical, Talent Show, Field Day, School Safety Patrol, Student Services
Call us or email (ststansnews@gmail.com)
to take a tour of our quality Catholic school.
PARTIAL ASSISTANCE TUITION AVAILABLE:  CLICK HERE FOR APPLICATION