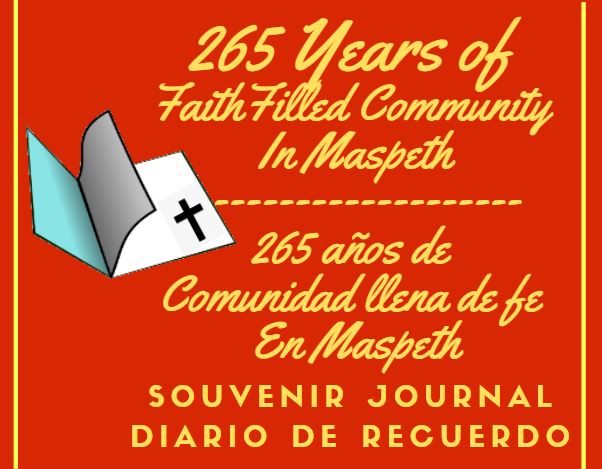 One of the ways we will be celebrating  the anniversaries of our merged parish is to publish a commemorative journal filled with history, pictures, sentiments and well wishes.
Parishioners, families, alumni, friends and neighbors are invited to participate by placing an ad in what will be a wonderful part of this exciting time in our parish history.
Also, if you are comfortable in doing so, why not take a journal ad letter and form, to the stores you visit in Maspeth, Middle Village, Ridgewood and other surrounding areas that would like to be included in the journal.
Your kindness and support, as well as theirs, will be memorialize in this extraordinary tribute to 265 Years of Faith Filled Community in Maspeth!
---
Una de las formas en que celebraremos los aniversarios de nuestra parroquia fusionada es publicar un diario conmemorativo lleno de historia, imágenes, sentimientos y buenos deseos.
Se invita a los feligreses, familias, ex alumnos, amigos y vecinos a participar colocando un anuncio en lo que será una parte maravillosa de este momento emocionante en la historia de nuestra parroquia.
Además, si se siente cómodo haciéndolo, ¿por qué no lleva una carta y un formulario de anuncio de la revista (haga clic aquí y está disponible en la Rectoría) a las tiendas que visite en Maspeth, Middle Village, Ridgewood y otras áreas circundantes que deseen incluirse en el diario.
¡Su amabilidad y apoyo, así como el de ellos, serán conmemorados en este extraordinario tributo al 265 Años de la Comunidad Llena de Fe en Maspeth!